About the NEW OPN III
The Orcutt Police Nunchaku (NEW OPN III) and certified training system developed by Sergeant Kevin Orcutt (Ret.), Master Instructor and designer of the Orcutt Police Nunchaku, is a non-lethal restraint and controlling device also offering defensive tactics for Law Enforcement, Corrections, Government and Military professionals. Sergeant Orcutt was awarded a U.S. Design Patent for the OPN in 1984.
The OPN program stresses CONTROL vs. IMPACT. Since 1984, the OPN has been field tested and adopted by Law Enforcement and Corrections Agencies nationally. Please contact Orcutt Police Defensive Systems, Inc. for additional information about the OPN, training and hosting an OPN Instructor I Course.
"The OPN is a grappling tool offering a quick upgrade to empty hands and effectively helps to end resistance into control! The OPN is the best physical restraint and control tool available for Corrections, Law Enforcement, Government, and Military – period!"
Sergeant Kevin D. Orcutt (Ret.) 
Master Instructor
Court Tested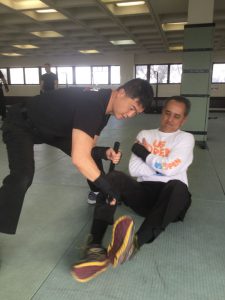 During a field test of the OPN by San Diego P.D. in 1989 officers responded to several demonstrations against abortion. Officers applied the OPN for restraint and control techniques to effect arrests of protesters. On June 1, 1994 the U.S. 9th Circuit Court of Appeals upheld a 1991 ruling from the Federal District Court of San Diego. This ruling concerned arrests of passive protesters by San Diego Police Officers implementing the OPN during anti-abortion demonstrations. The court said that police officers using the OPN to effect arrests of demonstrators did not use excessive force.
In a 2-1 decision the court said "the use of pain compliance techniques was reasonable." "The police struck no blows and used minimal and controlled force in a manner designed to limit injuries."
This landmark federal court decision supports the concept of Control vs. Impact using the OPN for arrest control tactics providing a more "humane" arrest procedure.
Protester Tactics
The OPN provides effective restraint and control tactics, which are federally court tested.  These tactics allow for quick arrest control enhancing empty hands for passive as well as aggressive protester situations.
Taser

The OPN offers effective physical restraint and control techniques.  When applied in conjunction with the Taser the OPN reduces the need for unnecessary or possibly excessive cycles, reducing risk and liability.
The OPN may help to reduce Taser costs!  Most subject resistance situations are at "hands on" and the OPN enhances empty hands and is usually the best option to offer quick effective physical control.  The OPN is 1/10 the cost of the Taser and there is no cost per OPN application as does the Taser cartridge application.
Accessibility
The OPN is compact and lightweight and may be worn on the duty belt.  In many different uniform or non-uniform assignments, comfort and mobility are important considerations, accessibility is the most important.  Physical control situations happen quickly and the OPN is designed to be available when you need it!
Bloodborne Pathogens
The OPN reduces exposure to bloodborne pathogens by creating a barrier to prevent direct physical contact with the subject during the arrest control process.
Low-Profile Appearance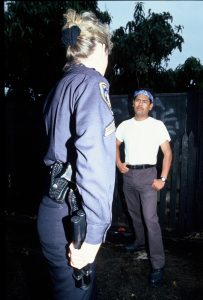 The OPN, in its leather / nylon carrying case blends into the equipment worn securely on the duty belt.  It may also be carried in a suitable uniform pocket.
The OPN is not usually recognized by the public, however if noticed the OPN does create a sense of respect.
Non-Lethal Concept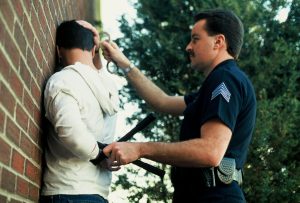 The OPN offers a powerful means of restraint and control through leverage, reducing the need for physical strength providing a clear advantage for the officer implementing this tool.  The concept for applying the OPN is simple and the training is easy to retain.  The OPN provides a safer and improved liability arrest control method, when an upgrade to empty hands is necessary.
OPN Application Environments
Receiving / Booking area
Cell area
Close quarters areas
Transport
Vehicle extraction / securing into vehicle
Hospital ER / Ambulance
Court security
Protester events
Arrest control situations
Restraint and Control Tactics Handcuffed Subject Control
Escort - Elbow Lock provides subject escort without physical contact.
Restraint - Assists with subject cuffing and removing of cuffs.
Restraint - Assists subject into and out of restraint chair.
Restraint - Assists subject entry into and out of transport vehicle.
Restraint - Assists subject restraint at hospital ER and ambulance.
Control - Assists with control of subject for finger printing.
Passive Subject Restraint and Control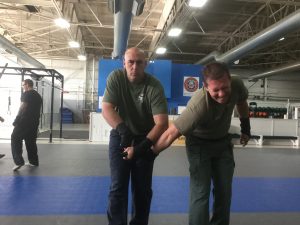 Escort - Subject escort, Straight Arm Come-Along.
Restraint - Subject grounded, Ankle Control prone position "turtle".
Restraint - Subject wraps arms around an object or person, subject locks arm out of cell door feeding slot.
Restraint - Ankle Control, subject on floor may be moved.
Restraint - Passive demonstrators.
Aggressive / Resisting Subject Restraint and Arrest Control
Restraint - Standing subject resisting, quick response High/ Low Tactics.
Restraint - Grounded subject resisting, High/ Low Tactics.
Restraint - Subject resisting, into transport vehicle, and extraction.
Control - Standing subject kicking, Ankle Control to Takedown.
Control - Grounded subject kicking, Ankle Control, roll subject.
Restraint - Active aggressive resisting demonstrators.
Defensive Tactics
Close quarters  - OPN Doubled Grip Jabs, Chops
Open areas / multiple subjects - OPN Swinging Techniques
OPN Retention Techniques
These techniques defend from the subject grabbing the OPN.
OPN Certified Training
OPN certified training provides documentation of training.
OPN Instructor I Course recommends 32 hours of training for certification.
OPN Basic Course recommends 24 hours of training for certification.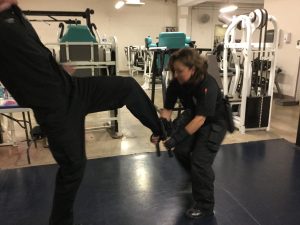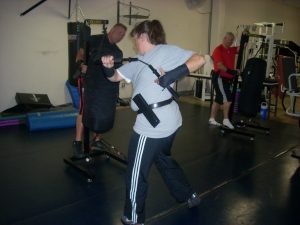 Contact us if you would like to enroll in one of our OPN training courses. We proudly serve Law Enforcement, Corrections, Government, and Military throughout the nation.